Description
Use this ketamine test kit to test for the presence of Ketamine (Special K), PMA/PMMA and other substances.
Our Ketamine Test Kit contains what is also known as the Mandelin reagent. It can be used to screen for a range of substances including the deadly cuts PMA and PMMA.
Ideally, you would test ketamine using more than one test. Using multiple tests decreases the chances of a false positive, and help identify cuts. If you can afford it, we recommend testing ketamine with the ketamine test kit package, which includes 4 tests.
Ketamine Test Kit Includes:
Testing fluid
Color chart with instructions
Multiple-use testing vial
Protective storage/transport jar
Test Tips:
If you're using this test to check for MDMA (Molly/Ecstasy), you should expect to see a the test liquid turn a dark blue/black color within just a few of seconds of contact with the sample. See the MDMA test demo video.
It's always better to test with multiple test liquids, such as the Marquis test, and the Mecke test. If you can afford it, we highly recommend the Essential Test Kit
The testing vial that comes with the kit helps prevent your skin from contacting the reagent while testing. Extra testing vials are also great for when you're on the go. But, using a white ceramic plate can help you see the results more easily.
Ketamine Test Kit Tips:
Methoxetamine (MXE) is sometimes passed off by dealers as ketamine. Ketamine turns orange with this (Mandelin) test. MXE yields a dark yellow/light brown color.
Ketamine (Special K) Test – Video Demo
Ketamine Test Kit instructions:
Put a small sample into the testing vial. Your sample should be about this size: (●)
Hold the testing vial above the open plastic jar, so that if a drop misses the vial, it will land in the jar.
Place 1-2 drops of the testing liquid from the dropper bottle onto the sample. DO NOT let the sample touch the bottle nozzle, or the reagent will get contaminated!
Watch the color change over 30-60 sec. Some reactions occur quickly (ketamine starts reacting almost immediately). Other reactions can take a longer time.
Compare the reaction color with the color chart provided.
Tightly close the dropper bottle. If you're using more than one testing fluid, make sure you only open one bottle at a time. If you accidentally switch caps, the testing liquid will get contaminated and ruined.
Thoroughly wash the testing vial after each use.
Store the dropper bottle in a cold place to maximize shelf life, like a freezer.
| Substance | Color Change | Time → |
| --- | --- | --- |
| Ketamine | Deep reddish orange | |
| MDMA/MDA/MDE | Purple/Black | |
| DXM | No reaction | |
---
More Color Reactions: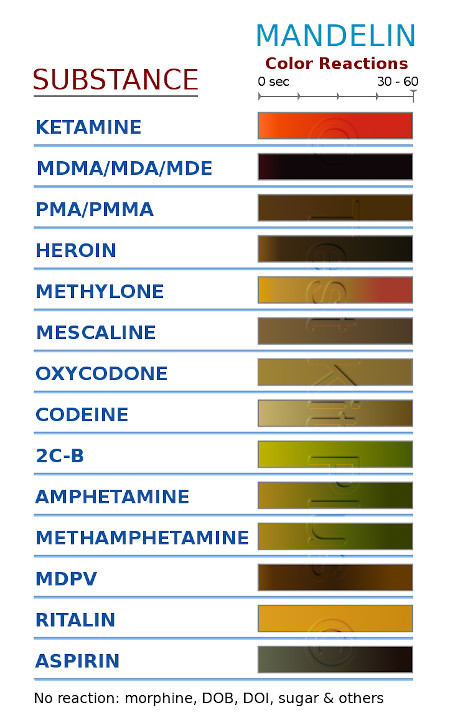 Notice
While reagent testing is the best method for on-the-spot testing, it is never 100% conclusive. There are many variables that can impact what the reaction looks like. Lighting, impurities, and unwanted substances in your sample may all play a role.
No drug (whether legal or illegal) is completely safe, we recommend avoiding all recreational drug use.
How to Test Ketamine (Special K)
Ketamine can come in powder, crystal or liquid form, and can't be identified by just looking at it. We recommend testing ketamine with four tests.
The primary test for ketamine is the Mandelin test. Which yields a red color if ketamine is present.
The Mecke test is recommended to check for other dissociatives, such as MXE, DXM. Mecke does not change color with pure ketamine.
The Froehde test is useful as a test for adulterants such as MXP, 4-MeO-PCP, 3-HO-PCE and others. Froehde does not change color with pure ketamine.
Finally, the Liebermann test is a good double check for ketamine, and can check for 2-MeO-ketamine (an analog of ketamine). Liebermann is also useful to rule out DXM, 3-HO-PCE, and other adulterants.
We provide a ketamine test kit package with all four tests.